Quotes on Peace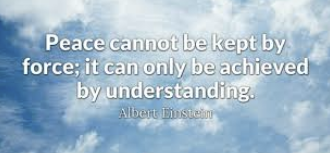 Return to Main Margie's Messages Home Page (Full List of Topics)
---
Be at Peace With Your Neighbors
---
"In the midst of all this turmoil and destruction, the Latter-day Saints should dwell in peace and safety. This they may do if they will be honest with themselves, with their fellowmen, and with their God."
-President Joseph Fielding Smith-
---
"True peace consists in not separating ourselves from the will of God."
-Thomas Aquinas-
---
"For every worry under the sun, There is a remedy or there is none. If there be one, hurry and find it. If there be none, then never mind it."
-LeGrand Richards-
---
"Be at War with your Vices, at Peace with your Neighbors, and let every New Year find you a better man."
-Benjamin Franklin-
---
"And blessed are all the peacemakers, for they shall be called the children of God."
-3 Nephi 12:9-
---
"Peace comes from within, never seek it without."
Buddha
---
"We experience power and peace each day as we accomplish what matters most."

---