Quotes on Education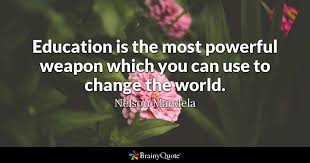 Return to Main Margie's Messages Home Page (Full List of Topics)
---
Be Strong
---
"Beloved young friends, much of our future rests with you. You are needed-not to be weak, but to be strong. WE BELIEVE IN YOU."
-David B. Haight-
---
"The man who does not read good books has no advantage over the man who can't read them."
-Mark Twain-
---
"The older I grow, the more I enjoy the words of thoughtful writers, ancient and modern, and the savoring of that which they have written."
-Gordon B. Hinckley-
---
"Don't be down on that you're not up on."
-Harold B. Lee -
---
"If a teacher influences but one, his influence never stops."
---
"It must be the aim of education to teach the citizen that he must first of all rule himself."
-Winthrop A. Aldrich-
---
"The worth of a book is to be measured by what you can carry away from it."
-James Bryce-
---
"We need to add to the three R's, namely Reading, 'Riting, and 'Rithmetic, a fourth--RESPONSIBILITY."
-President Herbert Hoover-
---
"Whatever I did not know, I was not ashamed to inquire about, so I acquired knowledge."
-Ancient Persian Philosopher-
---
"Character is the aim of true education."
-David O. McKay-
---
To educate a man in mind and not in morals is to educate a menace to society.
-Theodore Roosevelt-
---
"Be as careful of the books you read, as of the company you keep; for your habits and character will be as much influenced by the former as by the latter."
-English Clergyman Edwin Paxton Hood, The New Dictionary of Thoughts-
<!- Start of PDF and Doc Template ->
---
<!- End of PDF and Doc Template ->
"Education in virtue is the only education which deserves the name."
-Plato, Laws, p. 643-44
<!- Start of PDF and Doc Template ->
---
<!- End of PDF and Doc Template ->
"Get all the schooling you can. Education is the key that unlocks the door of opportunity. God has placed upon this people a mandate to acquire knowledge even by study and also by faith"
President Gordon B. Hinckley, Oct. 4, 1997 General Conference, "Some Thoughts on Temples, Retention of Converts, and Missionary Service"
<!- Start of PDF and Doc Template ->
---
<!- End of PDF and Doc Template ->
"There are obviously two educations. One should teach us how to make a living and the other... how to live."
James Truslow Adams
<!- Start of PDF and Doc Template ->
---
"A book is a present you can open again and again."
---
"Books serve to show a man that those original thoughts of his aren't very new at all."
-Abraham Lincoln-
---