Outline Of George Albert Smith's Life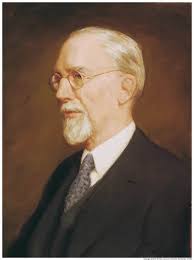 Return to Main Margie's Messages Home Page (Full List of Topics)
---
Institute Class Outline
---
4 Apr 1870 George Albert Smith born in SLC, Utah.
1883 Worked at ZCMI (age 13) for $2.50 a week sewing
buttons on overalls.
1884 Received Patriarchal Blessing
1892 Marries Lucy Emily Woodruff (President Woodruff's
grand-daughter)
1892-94 Served a mission to the Southern States (Chattanooga, TN)
1903 Sustained as a member of the Twelve (age 33)
1919-1921 Presided over European Mission
1943 Sustained as President of the Twelve
6 Jun 1944 Allied forces invade Europe at Normandy France.
7 May 1945 Germany surrenders.
14 May 1945 President Heber J. Grant dies in SLC, age 88.
21 May 1945 George Albert Smith sustained as 8th President

9 Aug 1945 Second bomb dropped on Japan (Nagasaki)
Sep 1945 Tabernacle opened to the general public for first time
since March 1942 (due to gov't restrictions)
7 Sep 1945 Japan surrenders. Papers arrive to Harry S. Truman.
23 Sep 1945 Idaho Falls Temple dedicated by GAS.
11 Oct 1945 Matthew Cowley called into Twelve.
Jan 1946 Elder Ezra Taft Benson sent to reopen European Missions
(travels through Europe for most of the year.)
Sep 1946 SWK called to head Church Lamanite Committee
6 Oct 1946 Bruce R. McConkie called to First Counsel of 70
Jan 1947 Matthew Cowley apptd over Pacific missions (7 of them)
Mar. 1947 Tells about the dream of his grandfather.
10 Apr 1947 Eldred G. Smith appointed as new Patriarch to the
Church
Apr 1947 Jackie Robinson broke baseball's all-white color barrier
when he began playing for Brooklyn Dodgers.
24 Jul 1947 "This is the Place" monument is unveiled.
Fall 1947 Indian placement program began
Dec 1947 Fast day for those in need in Europe. $210,000 collected.
Distributed to people of all faiths.
14 May 1948 Britain ends its rule in Palestine. Independent state
of Israel is created.
Jan 1949 Los Angeles Temple construction to begin.
1950 Early morning seminaries started in California.

Jun 1950 Korean war begins.
Jan 1951 Ernest L. Wilkenson installed as President of BYU for $1
per year.
4 Apr 1951 Pres GAS dies on his 81st birthday.

9 Apr 1951 David O. McKay sustained as 9th president.
May 1951 President Smith's personal creed was published.
---