Missionary Work - Page 1


Return to Main Margie's Messages Home Page (Full List of Topics)
---
Top Resources (each leads to many more resources)
---
Church of Jesus Christ - Topic Page on Missionary Work
Church of Jesus Christ - All General Conference Talks on Missionary Work
Church of Jesus Christ - Scriptures on Missionary Work
Church of Jesus Christ - Missionary Work in the Topical Guide
Church of Jesus Christ - Missionary Work in the Guide to the Scriptures
Church of Jesus Christ - Magazine Articles on Missionary Work
Church of Jesus Christ - Videos on Missionary Work
Church of Jesus Christ - Images on Missionary Work
Church of Jesus Christ - Music that talks about Missionary Work
Church of Jesus Christ - Missionary Work in the Church News
Church of Jesus Christ - Lessons in Church Manuals about Missionary Work
Church of Jesus Christ - Missionary Work in the Church Handbook
Church of Jesus Christ - All Search Results on Missionary Work
---
Scriptures on Missionary Work
---
Church of Jesus Christ - Preach My Gospel: A Guide to Missionary Service
Church of Jesus Christ - Missionary Training Centers
Church of Jesus Christ - Missionary Preparation
Guide to the Scriptures on the topic of Missionary Work
---
Quotes
---
President Hinckley - Inspirational Message and Quotes
President Hinckley - "Proclaiming the Gospel Quotes - Church News
Quotes by members of the Twelve during New Mission Presidents Seminar
Quotes from Church Leaders on Missionary Work

Quotes about Missionary Service - 1
Quotes about Missionary Service - 2
Quotes about Missionary Service - 3
Quotes about Missionary Service - 4
Quotes about Missionary Service - 5

Quotes about Missionary Service - 6
Quotes about Missionary Service - 7
Quotes about Missionary Service - 8
Quotes about Missionary Service - 9
Quotes about Missionary Service - 10
Quotes about Missionary Service - 11
Quotes about Missionary Service - 12
Quotes about Missionary Service - 13
Quotes about Missionary Service - 14
Quotes on Missionary Work (LDS Daily WOOL)
Quotes about Conversion (LDS Daily WOOL)
Quotes about Retention (LDS Daily WOOL)
---
Library Books & CD's
---
"If I'm forgiven, why does my past still bother me?" - Brad Wilcox
---
Links Related to Missionary Work
---
DearElder.com - send pouch letters to your missionary free!
Time difference between you and your missionary   (link to worldclock site)
Translator website - Send a letter to your missionary in his new language! 
Want to Know More About Our Church?  (official church web site for investigators)
---
Promises for Missionary Service
---
You can read the promises in three ways. The links below access the promises in Docx and PDF format (you are welcome to download these for free), OR you can see each promise right on this page, below the links.
Promises for Missionary Service (Word - Docx) - Printable
Promises for Missionary Service (PDF) - Printable
---
Pics and Quotes
---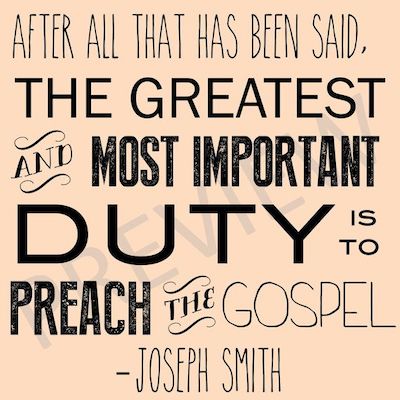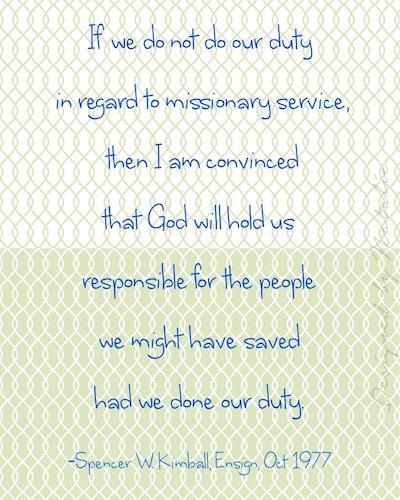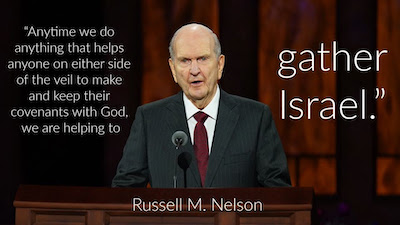 ---