Mission Stories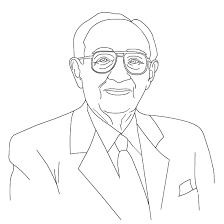 Return to Main Margie's Messages Home Page (Full List of Topics)
---
President Gordon B. Hinckley
---
I was in the university. It was the time of the worst economic depression in the history of the world. Unemployment in this area was about 35 percent, and most of the unemployed were husbands and fathers, since relatively few women worked in the labor force. Very few missionaries were going into the field at that time. We send out as many in a week now as then went during the entire year. I received my bachelor's degree and planned on somehow attending graduate school. Then the bishop came with what seemed to me a shocking suggestion. He spoke of a mission. I was called to go to England which, at that time, was the most expensive mission in the world. The cost per month was the equivalent of what would be about $500 now.
We discovered that my mother, who had passed away, had established a small savings account to be available for this purpose. I had a savings account in a different place, but the bank in which I had mine had failed. There was then no government insurance program to cover its failure as there is now. My father, a man of great faith and love, supplied the necessary means, with all of the family cooperating at a sacrifice. As I look back upon it, I see all of it as a miracle. Somehow the money was there every month.
---
He That Loseth His Life Shall Find It. (See Matt. 10:39.) In 1933 when I left for my mission, I traveled through Chicago. The Great Depression was on. As we passed what I think was the Chicago Board of Trade Building, a woman said to the bus driver, "What building is that?" He replied, "That's the Board of Trade Building. Nearly every day, some man whose stock has gone down jumps out of one of those windows.
The bus driver may have exaggerated, but some people were jumping from windows in those days as they saw their fortunes dwindle. Their lives were wrapped up in themselves and their money, and they felt there was nothing worth living for when their money was gone.
---
Please accept the testimony of an old British missionary who came to this land in the dark days of the world Depression in 1933, and here learned to love the people and to love the Lord in a way that I had not known before. I've never forgotten that love and respect and appreciation for the people of Britain.''
Fireside, Crawley, England, August, 1995
---
The work in the field was not easy. It was difficult and discouraging. But what a wonderful experience it was. In retrospect, I recognize that I was probably a selfish young man when I arrived in Britain. What a blessing it became to set aside my own selfish interests to the greater interests of the work of the Lord. I had the association of tremendous young; men and women. They have become treasured friends whom I have known and loved now for more than half a century.
---
I traveled by train in 1933 from Salt Lake City to New York, and then took ship from New York to Plymouth, England. There were three of us in our group. Two stayed in London, and somehow, in the providence of the Lord, I, like Heber C. Kimball and his associates ninety-six years earlier, was sent to Preston. That was my first assignment and my first field of labor.
I became as familiar with the places they knew and the streets they walked as they had been nearly a century earlier. My companion and I walked up and down the same road where they had seen that banner, "Truth will Prevail." In the evening of the day that I arrived in Preston, my companion, who was the district president, said we would go down to the marketplace and hold a street meeting. There, in the place which was familiar to Heber C. Kimball and his associates, Elder Bramwell and I raised our voices in a hymn, offered prayer, and preached the same gospel to a gathering crowd as those first missionaries had preached....
Somehow I feel especially fortunate now to have been sent to Preston as my initial assignment. Not only did I labor there, but I labored in the surrounding towns where those first missionaries taught the gospel. I was not as effective as were they. When they first arrived, there evidently was little or no Prejudice against them. When I arrived, it seemed that everyone was prejudiced against us.
A short time before I arrived, two missionaries unfortunately had been sent home because of violation of mission rules. The people in the city knew of their behavior, and this aggravated their antagonism toward us. I was not well when I arrived. Those first few weeks, because of illness and the opposition which We felt, I was discouraged.
I wrote a letter home to my good father and said that I felt I was wasting my time and his money. He was my father and my stake president, and he was a wise and inspired man. He wrote a very short letter to me which said, "Dear Gordon, I have your recent letter. I have only one suggestion, forget yourself and go to work." Earlier that morning in our scripture class my companion and I had read these words of the Lord: "Whosoever will save his life shall lose it; but whosoever shall lose life for my sake and the gospel's, the same shall save it" (Mark 8:35) Those words of the Master, followed by my father's letter with his counsel to forget myself and go to work, went into my very being. With my father's letter in hand, I went into our bedroom in the house at 15 Wadham Road, where we lived, and got on my knees and made a pledge with the Lord. I covenanted that I would try to forget myself and lose myself in his service.
That July day in 1933 was my day of decision. I do not say it egotistically. I say it humbly and with gratitude. A new light came into my life and a new joy into my heart. The fog of England seemed to lift, and I saw the sunlight. I had a rich and wonderful mission experience, for which I shall ever be grateful, laboring in Preston where the work began and in other places where it had moved forward, including the great city of London, where I served the larger part of my mission.
BYU Symposium, 1987
---
[President Hinckley spoke of having visited in 1987 the house in Preston where he had lodged as a young missionary in 1933. Upon visiting the home, he had asked the woman who lived there for permission to go upstairs to the room he had occupied.] I almost wept when I thought of that bedroom, it was in that bedroom that I made the most important decision of my life. I was called to England in 1933. It was the bottom of the Depression. Poverty was everywhere . . people were struggling. They had nothing. They were on the dole. Those were very, very difficult times.
We didn't get anywhere. To get people to listen to us was like knocking on a brick wall. They didn't want to hear; they were disillusioned; they were bitter. I had been there about a week or two. I wrote home to my father and said, "I'm not doing any good here. I'm just wasting my time." In about two weeks, I received an answer. He said, "Dear Gordon, I have your letter. . . . I have only one suggestion: Forget yourself and go to work."
The day I received that letter, I also read in the Gospels we were studying this great statement of the Lord: "For whosoever will save his life shall lose it: and whosoever will lose his life for my sake shall find it." (Matt. 16:25.) I got on my knees in that little bedroom . . . and made a pledge that I would try to give myself unto the Lord. The whole world changed. The fog lifted. The sun began to shine in my life. I had a new interest. I saw the beauty of this land. I saw the greatness of the people. I began to feel at home in this wonderful land. Everything that has happened to me since that's been good I can trace to that decision made in that little house . . . in Preston, Lancastershire.
Fireside, Nottingham, England, August, 1995
---