He Did It For Me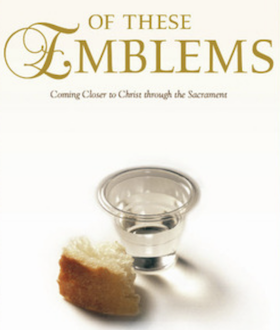 Return to Main Margie's Messages Home Page (Full List of Topics)
---
The Savior's Sacrifice was Just for Her
---
"A friend of ours in South Africa shared how she came to this realization. When Diane was a new convert, she attended a branch outside of Johannesburg. One Sunday, as she sat in the congregation, the layout of the chapel made it so that the deacon did not see her as the sacrament was passed. Diane was disappointed but said nothing. Another member noted the omission and mentioned it to the branch president after the meeting. As Sunday School began, Diane was invited to an empty classroom.
A priesthood holder came in. He knelt down, blessed some bread, and handed her a piece. She ate it. He knelt down again and blessed some water and handed her a small cup. She drank it. Thereafter, Diane had two thoughts in rapid succession: First, "Oh, he [the priesthood holder] did this just for me." And then, "Oh, He [the Savior] did this just for me." Diane felt Heavenly Father's love.
Her realization that the Savior's sacrifice was just for her helped her feel close to Him and fueled an overwhelming desire to keep that feeling in her heart, not just on Sunday but every day. She realized that although she sat in a congregation to partake of the sacrament, the covenants she made anew each Sunday were individually hers. The sacrament helped—and continues to help—Diane feel the power of godly love, recognize the Lord's hand in her life, and draw closer to the Savior."
Dale G.  Renlund, "That I Might Draw All Men Unto Me" - April 2016 General Conference
---