The Faith of a Young Woman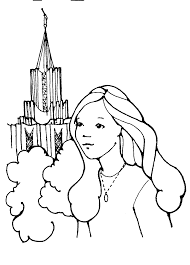 Return to Main Margie's Messages Home Page (Full List of Topics)
---
Elder N. Eldon Tanner
---
A young girl and her family were being taught the gospel right here in this city (S.L.C., Utah) by a returned missionary who was serving as a stake missionary. After the family had heard the first two discussions, the father said, "We want nothing more to do with it."
But this girl, who was about eighteen years of age, believed what she heard, and she wanted to be baptized. Her father said, "You can't be baptized. If you want to be baptized, you will have to wait until you are of age."
She was telling her boyfriend about the gospel and what it meant to her. He got tired of listening to her. He said one night, "You will have to choose between me and the Church."
This hurt her badly. She loved this young man, but as they talked it over and she shed some tears, she said, "I am going to stay with the Church. I know it is true."
She went home and was very much upset. Her father saw she was upset and asked her what was troubling her. She said, "Oh, nothing, Dad."
He said, "My dear, I know there is something wrong. What is it?"
She told him what had happened. He said, "If the Church means that much to you, you may be baptized." Three weeks from then she was baptized.
And who do you think was there to see the baptism? Her father, her mother, and her boyfriend; and three weeks later they were baptized.
In Conf. Report, Oct. 1968
---
In using this conversion story, people must be made aware that this type of miracle may not happen to them. Their family and friends may indeed turn away. They must have the faith to go ahead regardless of which outcome may occur. That's part of the test of our faith.
---
PRAY FOR OTHERS AND THEIR NEEDS. Pray for special blessings on the needy—not just throughout the world generally, but for those who are near at hand and whom you might help. A good question to ask is "Who specifically needs my personal help today through some sincere expression of encouragement or act of assistance? Then be
sure, after you have prayed, to try to fulfill your prayers, thus becoming an instrument for good in God's hands.
Remember that all the poor are needy, but not all the needy are poor. Even the richest among us have unmet needs, and you can find ways to help them, regardless of how few worldly things you may have. Perhaps what is needed is a word of appreciation, a word of encouragement, or a hug.
---