Eternal Friendship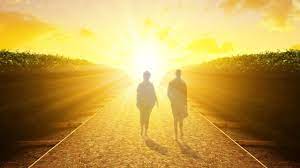 Return to Main Margie's Messages Home Page (Full List of Topics)
The Church of Jesus Christ of Latter-Day Saints
---
Edgar Albert Guest
---
Who once has had a friend has found
The link 'twixt mortal and divine;
Though now he sleeps in hallowed ground,
He lives in memory's sacred shrine;
And there he freely moves about,
A spirit that has quit the clay,
And in the times of stress and doubt
Sustains his friend throughout the day.
No friend we love can ever die;
The outward form but disappears;
I know that all my friends are nigh
Whenever I am moved to tears.
And when my strength and hope are gone,
The friends, no more, that once I knew,
Return to cheer and urge me on
Just as they always used to do.
They whisper to me in the dark
Kind words of counsel and of cheer;
When hope has flickered to a spark
I feel their gentle spirits near.
And Oh! because of them I strive
With all the strength that I can call
To keep their friendship still alive
And to be worthy of them all.
Death does not end our friendships true;
We all are debtors to the dead;
There, wait on everything we do
The splendid souls who've gone ahead.
To them I hold that we are bound
By double pledges to be fine.
Who once has had a friend has found
The link 'twixt mortal and divine.
---