Daughters of Heavenly Father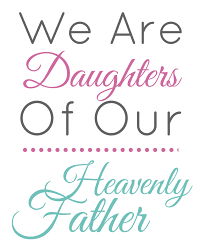 Return to Main Margie's Messages Home Page (Full List of Topics)
---
You are Very Special
---
Our son-in-law told his daughter, three-year-old Eliza, that for family home evening they were going to have a lesson on a very special subject. She got a big smile on her face and attempted to guess the surprise. "It must be about me," she said, "because I am very special!" Eliza remembers and knows who she is—a very special child of God. She has learned this from her mother, who from Eliza's earliest infancy has sung our opening hymn, "I Am a Child of God" (Hymns, no. 301), as a nightly lullaby.
All over the world and in almost every language, young women ages 12 to 18 declare the same thing: "We are daughters of our Heavenly Father, who loves us, and we love Him" ("Young Women Theme," Young Women Personal Progress [booklet, 2001], 5).
Yet as they grow up, they often grow away from the confident knowledge of three-year-old Eliza that they are very special. Youth often experience an identity crisis, wondering who they really are. The teenage years are also a time of what I describe as "identity theft," meaning that worldly ideas, philosophies, and deceits confuse us, buffet us, and seek to rob us of the knowledge of our true identity.
"Daughters of Heavenly Father" - Susan W. Tanner, YW General President - April 2007 General Conference
---